Building a brand for your author/pen name or book series ensures that your messaging is clear and reaches your audience in a way that truly reflects your genre, writing style and books.
Branding is a custom process, unique to you and your individual/business needs. The solution is different for everyone. Developing a brand gives you control over your messaging/story, consumer perception and future audience.
Get in touch for a free consultation and a seamless experience building your brand!
Not a writer? Not a problem! I work with a variety of industries, from non-profits to creatives to small businesses and PR.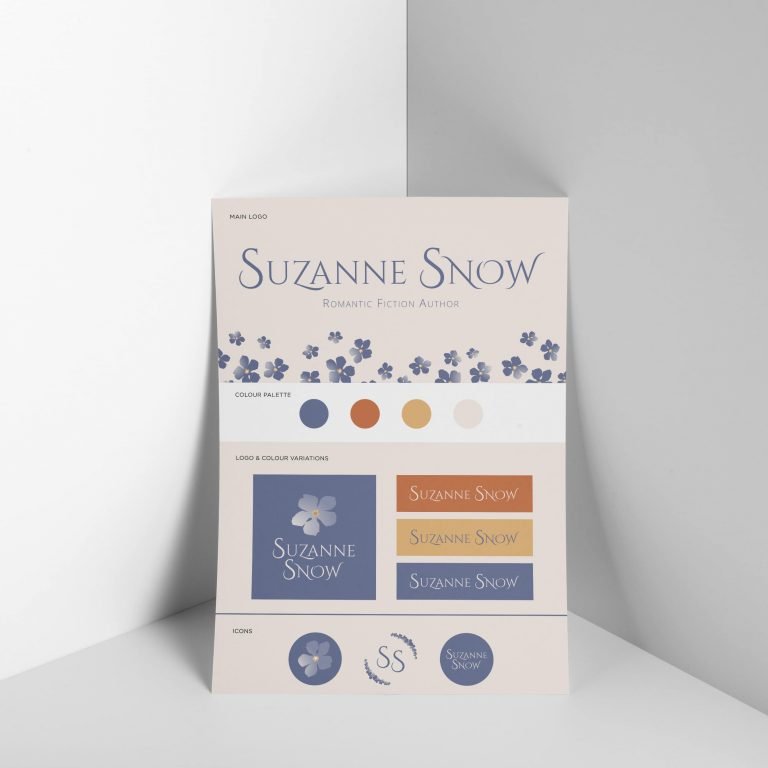 Brand Strategy and Identity
Let your brand identity help you share your story as an author.
Share your values and build a valuable connection with your readers.
Build trust and recognition through consistent brand messaging.
Use your brand across digital and print platforms, from social media to websites.
There are two sides to creating a brand – the Brand Strategy and Brand Identity. Not everyone is ready for a brand strategy but it's helpful to understand the foundations of each before you make your decision.
Brand Strategy: Creating a Brand Strategy is traditionally the first step towards building a brand. It makes sure that your mission, vision, values and persona are reflected in your visual brand elements. It also supports you in building the foundations of your business within the publishing industry.
Brand Identity: The Brand Identity is usually the second part to the process and is all about the visuals – it is what carries and conveys the messaging in your Brand Strategy to your audience, such as through a logo, colours, fonts, use of language, photography and so on… Your Brand Strategy and Brand Identity work as a team and support one another.
What's really important is that your books, branding and website (or digital presence) together reflect you, the author, as well as your books – and successfully to your audience! To discuss your branding options drop me a message!

Katie has great taste in website design. She created something that looks beautiful and makes me smile every time I open it. I hired Katie because of all the people I interviewed (and I interviewed many) she struck me as the most efficient. And that turned out to be true. Katie is super-efficient and very hard-working. She always kept on top of things. I never had to chase after her to ask her what was going on. Instead, she gave me deadlines! She managed to do this without being pushy or bossy. Instead, she was a delight to work with. I highly recommend Katie Birks!
During 2022, I had the distinct pleasure of working with Katie Birks to redesign both my blog and author website. The process went from setting a vision for my brand to implementing both new designs. The work proceeded seamlessly from beginning to end. Not only am I delighted with the results in terms of design and effectiveness, but it is clear that my readers are too! I highly recommend Katie Birks Branding and Design!
I would recommend KBBD for four reasons:
*Excellent, responsive customer service.
*Innovative design that suited my business needs and didn't go further than I needed it to. I now have a website that should last for a long time.
*Good after sales service.
*Good value for money.
I could also add that KBBD were very patient with me... 😀
I needed a website, leaflet and business card that would provide a professional 'shop window' for my start-up proofreading business. Not knowing how to achieve this, I asked Katie Birks Branding and Design for help. Katie really took the time to listen and get to know me, my business aims and what I wanted the look and feel of my brand to be. She provided technical ideas that built on my original concept that took the website in particular to a whole new level. Her excellent communication and enthusiasm made her a pleasure to work with, and I wouldn't hesitate to recommend her services.
Katie built the new Growing Club website, which is just beautiful and represents us so much better. Katie was patient and worked with me as I needed. I'm not a form filler, I have to talk my ideas through out loud and Katie accommodated that perfectly. Having a new website built can be a painful job, but Katie made it as easy as possible for me. She now not only looks after our website, but creates all our marketing materials too.

Most brand projects fit into the package options below, however, if these don't fit your needs please get in touch for a custom quote.
Option 1
Brand Essentials
Up to 2 rounds of development

Logo variation (if relevant/required)

Industry standard deliverables, incl. black & white logo versions
Investment starts at £995
Brand Moodboard & development

2-3 Initial logo concepts

Up to 3 rounds of development

Logo variation (if relevant/required)

Social media profile image & branded cover banners

Industry standard deliverables, incl. black & white logo versions

30 days post project support
Investment starts at £1,295
Option 3
Full Brand Package
Brand Strategy online workbook and exercises to support & help develop your brand mission, vision, values, personality & audience.

Brand Moodboard & development

Up to 3 rounds of development

Logo variation (if relevant/required)

Custom branded patterns & graphics

Social media square profile image & branded cover banners

Industry standard deliverables, incl. black & white logo versions

30 days post project support
Investment starts at £1,695